Essential Oils for Pregnancy
Pregnancy is one of the most crucial times in the life of a woman. You will be glad to know that essentials can be safe to use during your pregnancy. The right information is essential to the well-being of yourself and your baby.
Reasons to use Essential Oils During Pregnancy
During pregnancy, your body goes through many changes, and you will experience some different symptoms. When used correctly, here is a list of things essential oils can help with:
- Nausea
- Easing Tense Muscles
- Reduce Stress and Promote Relaxation
- Fighting off Colds
- Decreasing Breakouts and Blemishes
- Increasing Mood
Essential Oils that are Safe During Pregnancy
Here is a list of essential oils you can choose from that are safe during your pregnancy. Please consult your doctor if you are unsure about applying any of them.
- Cypress

- Ginger

- Grapefruit

- Lavender

- Lemon

- Mandarin

- Tea Tree

- Bergamot

- Juniper

- Sweet Orange

- Sandalwood

- Geranium

- Eucalyptus

- Marjoram Sweet

- Ylang Ylang

- Chamomile German

- Chamomile Roman

- Frankincense
Essential Oils to Avoid during Pregnancy and while Breastfeeding: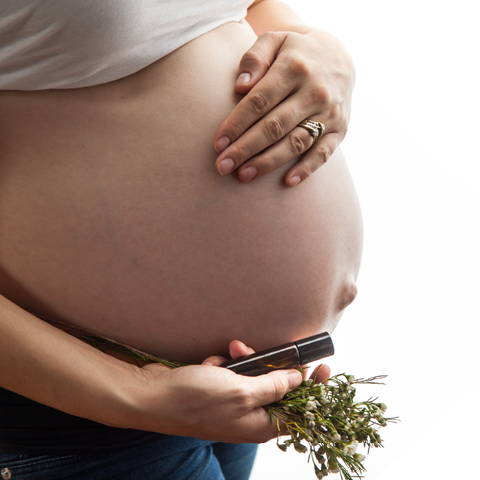 - Basil

- Cinnamon

- Clove

- Cumin

- Aniseed

- Anise Star

- Mugwort

- Oregano

- Fennel

- Hyssop

- Pennyroyal

- Sweet Birch

- Thyme

- Tarragon

- Wintergreen

- Wormwood

- Tansy

- Sage

- Parsley
If pregnant and thinking about using essential oils during your pregnancy, then you need the most trusted information you can get. We have compiled some of the most trusted resources for you.
Stephanie McBride is a mother of three children and a passionate advocate for using essential oils in natural self-care and clinical practice, from conception onward. She has 25 years of academic studies, research, and fieldwork that span over several countries, cultures, and contexts.
She wrote two books: Essential Oils for Pregnancy and Essential Oils for Maternal Wellness. 
Everything you need to know to start using essential oils during your pregnancy is in our Essential Oils for Pregnancy book It is an easy-to-read guide! 
Essential Oils for Maternal Wellness takes an even deeper dive into essential oils during pregnancy. Readers will come away feeling more confident using and recommending oils during pregnancy, each phase of labor, postpartum, and while caring for infants and babies. 
Talk to your Doctor
There are many benefits to using essential oils during your pregnancy, and generally, they are not dangerous. Your doctor has your medical history and will know what oil will be good or bad for you based on your health. A doctor will answer any questions you have that you may not find on the internet.
Final Thoughts
Every mother wants the absolute best life she can give to her baby, and that is why we want you to use essential oils during your pregnancy. It can be tough going through the pregnancy process, dealing with mental and physical stresses, and the stressful excitement of taking care of your newborn. We believe using natural remedies, such as essential oils, instead of over the counter/prescription drugs will help you more in the long run.