The Essential Oil Guide for Life.
A simple yet super effective guide on using Essential Oils for everyday needs! This handy, easy to use book is designed by category (Essential Oil safety, outdoors and first aid, home and personal care, cats, dogs, women, men, babies, etc.), which makes it great for the new user and expert alike. Though this book has been designed to help the new user get started with using their Essential Oils, it makes a great mini reference guide to keep with you even if you are an experienced user.
A Slice of the Everyday Essentials Guide
1/2 cup Almond or Apricot carrier oil
1/4 cup coconut oil (natural SPF 4)
1/4 cup beeswax
1 tablespoon Zinc Oxide (this is a non-nano version that won't be absorbed into the skin. Be careful not to inhale the powder)
Up to 1 teaspoon Pomegranate Seed Oil (optional)
Up to 1 teaspoon Vitamin E oil (optional)
2 tablespoons Shea Butter (natural SPF 4-5) (optional)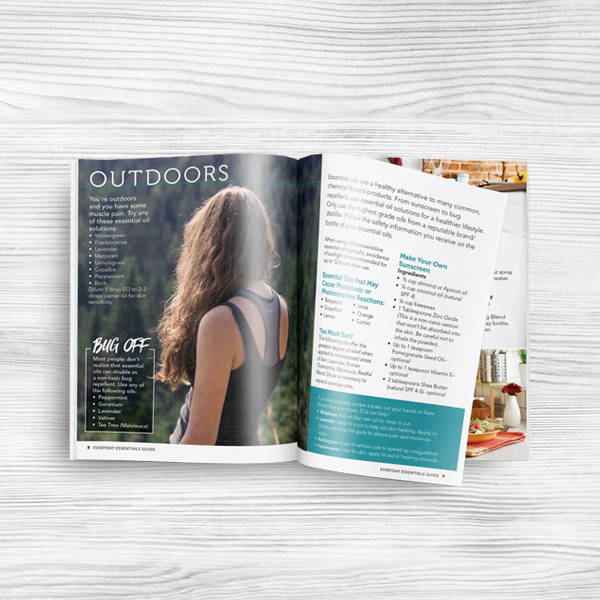 The Everyday Essentials Guide was created in collaboration with several experts and enthusiasts.
This means that many knowledgeable Essential Oil users put their minds together to create this book for YOU — in this book, you'll find information, tips, and tricks that these Oil experts wish they knew when they first started using Essential Oils!
For example, did you know that 1 gallon of homemade laundry detergent with Essential Oils will end up costing you only $0.02 a load, and it can clean your clothes just as well as (if not better than) store-bought detergent?
We wants to help you make the most out of your Essential Oil journey, and this guide is a great way to teach you the essentials of Essential Oils!